My mother and I tried decorating Gingerbread cookies this year. It was our first time. They came out a little scary.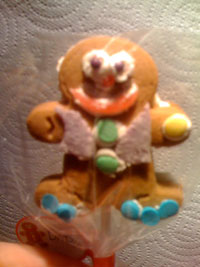 We had second thoughts about giving them as gifts, but I decided that we worked hard on them and people WERE going to get them gosh darn it! (Even if I had to enclose a disclaimer explaining why they were a bit odd!)
Everybody loved them (I knew they would). One family member asked:
Her
So did you bake the cookies too? Or just desecrate them?
Me
We just desecrated them. They came in a kit. A Gingerbread Desecrating kit.